Our Mission
Bringing joy to people's lives through our products, people, and a place to play
Location
GamesXP
105 West Water St.
Decorah, IA 52101
Phone: 563-382-4966
Store Hours
Monday: 10-5pm
Tuesday: 10-5pm
Wednesday: 10-5pm
Thursday: 10-5pm
Friday: 10-5pm
Saturday: 10-5pm
Sunday: CLOSED
---
The Owners
Tim & Kristen Borseth
Owners, Operators, Managers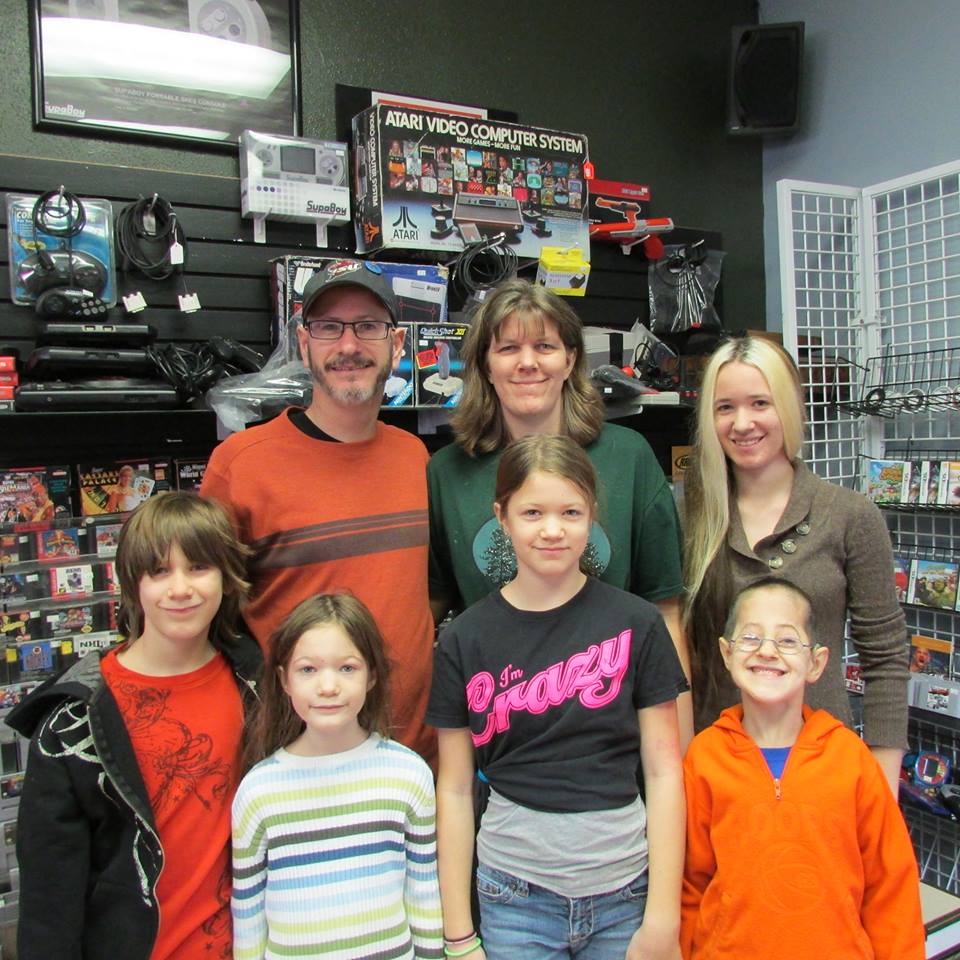 Our Team
Nina Borseth
Co-owner, Manager, Gaming geek, Phone Repair Technician
Larry
Console and small electronics repair tech
Josh Hauber, Natelie Schmalzried
General store operations, Sales
Andrew Schmalzried, Wayne Borseth, Isaac Borseth
Video game tester, Shelf "stalker"
Rex Borseth
Investor, advisor, video game geek and repair tech emeritus
---
Our Story
In the year 2010, my family and I moved to small town of Decorah Iowa to start a church and ended up starting a video game store as well!
I bought into the business to spend more time with my teenage kids and meet people in the community, but in the process ended up becoming a safe, enjoyable and really cool after school hang out spot for teenagers.
We've expanded our floor space twice and added a game room, a Magic The Gathering inventory, internet sales, and 3 extra employees.
We hope to add a party and laser tag room so the whole family can be in on the action. Get the gory details of our happenin' store below:
The Game Exchange is a limited liability corporation (LLC) purchased in May of 2010 from a programming/ music lessons store that had a very small used game store operation in its store front. Upon purchasing the business and assuming the rental contract, we remodeled the area by doubling the square footage and slowly remodeled the back practice room into a game room.
Our primary retail product is video games, video game systems and accessories. Anything video game related both from the past and in the present we want to carry. We currently have on hand: Xbox 360, PS3, Xbox, Wii, PC games, Game Cube, PS2, PS1, N64, Dreamcast, Sega Genesis, SNES, NES, Intellivision, and Atari games and game systems. We also have other older, marginal game systems.
Along with our major systems, we carry smaller hand held systems and games such as: PSP, DS, GBA, Game Gear and Game Boy items. Our second major inventory item is our growing DVD movie collection covering all genres. We also have blu-ray and HD movies on hand.
DVD revenue is now being challenged by our Magic The Gathering cards and accessory sales. We carry new and old Magic cards, mats, dice, decks and a wide variety of other items. We also carry a large inventory of Yu-Gi-Oh! cards and accessories.
In addition to product, we offer service repair to get expensive electronics back up and running for a reasonable price. We repair gaming systems (Xbox 360, PS3, Wii, DS, ect…), ipod/ tablet screen replacement, and minor computer repair.
We also provide a service to customers by buying product and selling their personal items on ebay and Amazon. Even though this is not a major income source, it is a service that we provide for the benefit of the customer and overall store reputation.
Lastly, we offer the use of our gaming room for free! Loaded with couches and chairs, 4 TVs, and 2 projectors equipped with surround sound capabilities, our game room is very popular with teenagers and gets filled up almost every weekday after 3pm. There's a rental fee for the use of the game exchange's systems and projector, but otherwise it's a fun, free hang out place. We also have a stand up arcade machine outfitted with 1400 classic video games in the front of the store as well as a table for customers to enjoy.
On most Fridays, the entire store is open until midnight for game night. Game night includes video gaming in the back and official FNM (Friday Night Magic) tournaments in the front. We hosted our first pre-release event in April 2013, and have had a blast hosting them ever since.